Hello, everybody!  Angela here.  Every Summer my husband Joel and I pack our tent into the truck and do a big camping road trip up north to the Midwest (MN and WI) so we can see our families for a little while.  On our drive back down to Sedona, we do some rockhounding! 
(We took 100s of photos.  Not only of rocks but other things nature, including parks we visited.  I whittled it all down and made an album. 

You can click here to view it

.)
We left Minnesota on Sept.8th.  The first stop on our docket was agate from the Black Hills of South Dakota.  We were really looking forward to it, being we've camped in the Black Hills a couple other times in the past and the area is just lovely.  However, this wonky year of 2020 had something else in store…
Even though it was nearly 100 degrees one state away the previous day, we woke up on dig-morning to multiple inches of snow!  Since we have a 2WD long bed truck, we opted out of probably getting stuck on a muddy road, and everything was under the snow anyway, so we decided to press on into Wyoming and spend the night. 
We did no notable rockhounding in Wyoming, but we did spend all of the following day running around Yellowstone National Park for the first time.  Wow, what a place!
There's an impressive wall of black obsidian in there!  Along with many boulders of black and mahogany, some of which line one of the parking lots we got out at.  And there are formations that look like a shorter version of Devil's Tower (also in Wyoming, to the east).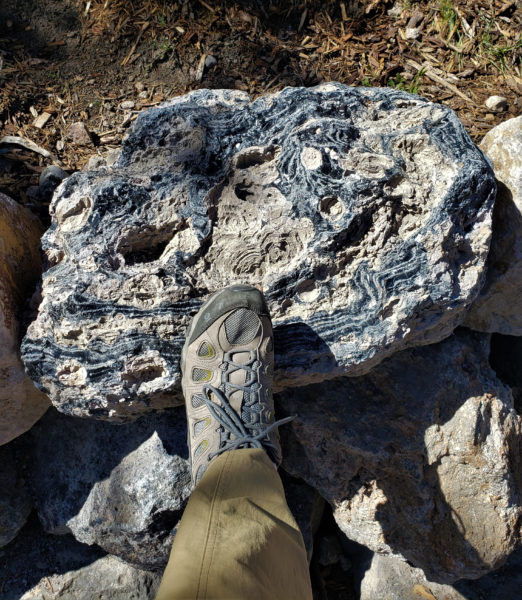 Along with all the random steam plumes and high sprays of boiling water shooting up out of the ground… not to mention waterfalls, artful mineral deposits, and multicolor bubbling pools… it is otherworldly.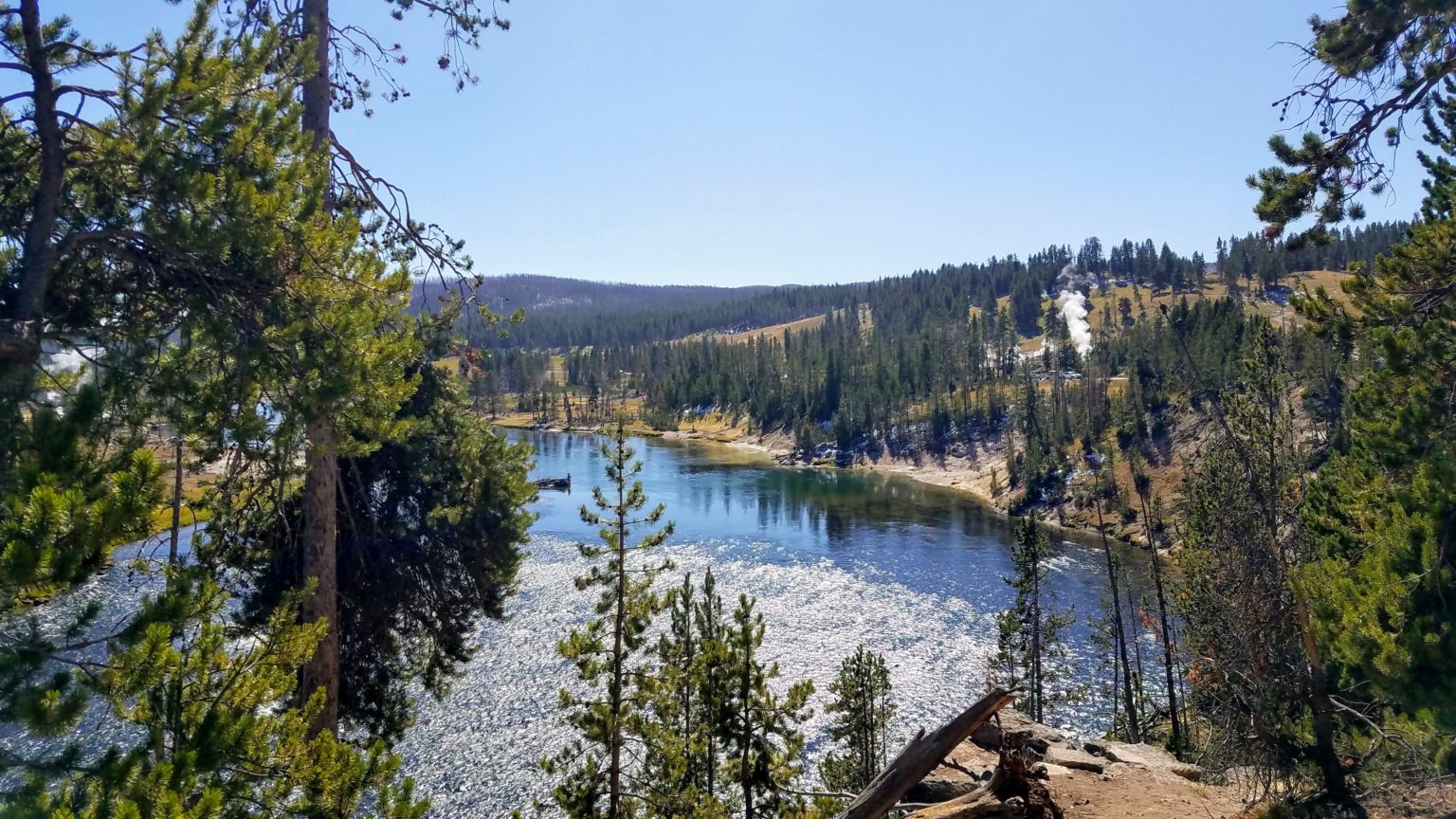 From here we'd had it in mind to drive north into Montana and then Washington.  The billowing wildfires across the west were creating unfavorable conditions for travel. Again we had to readjust our plan, so we decided to head south.  Besides, we were eager to start using one of the books we just got. This is where our hounding finally began.
Our new plan was to collect and overnight it at a reservoir off of Hwy 20, but first we got sidetracked by a park we'd never heard: Craters of the Moon National Monument and Preserve–  A large sprawl of different lava flows solidified here about 15,000 to just 2,000 years ago.  It's a fascinating landscape that stretches over a thousand square miles.

  There are scattered islands of cinder cones and 5 caves to explore.  Since the caves were currently closed (and a permit must be obtained beforehand to access them), we hiked up a cone, walked a couple paths, then bugged out.  We spent just under 2 hours here and very much enjoyed it

30 minutes further down the road toward Carey, we made a right turn onto the dusty but relatively easy dirt road of Fish Creek Reservoir.  After 7ish miles Joel stopped the truck with a funny look on his face.  "What's up?" I asked.  "Well, this is just WEIRD!" he said.
He showed me our current location according to the map on his phone- a pulsing dot in the middle of a lake! The water had receded greatly, allowing us to drive down the "boat ramp" and across the flat, dry lake bed toward what water was left.  
Sometimes a rockhound adventure ends up being more about the great outdoors and fresh air instead collecting stones worth writing home about.  We scoured the banks of the lake, walked the cracked but flowing creek bed, and wandered into the expanses until sundown- it was a lot of fun!  We did find numerous nuggets of black obsidian, some very small chunks of clear material, some with nice banding or dendrites, and a couple of arrowheads.  Nestled in these quiet rolling hills, we found ourselves all alone until morning, with the exception of some cows.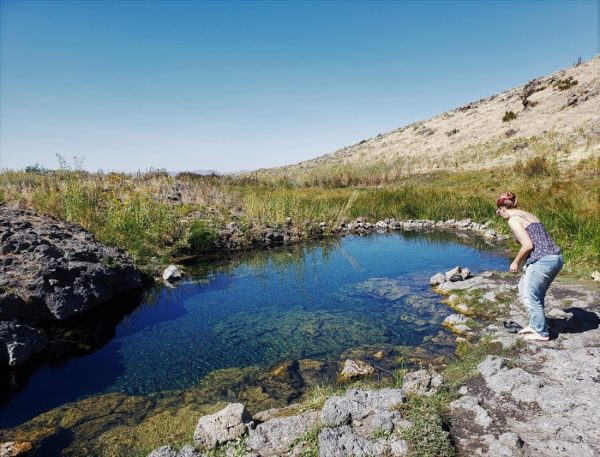 The morning after, we realized we'd went by a hidden little hot spring pool after we left the park, right off the highway, but hidden from passing traffic.  What a lovely surprise!  to relax here and become refreshed for our day.  Once in the water, we were totally out of sight.  It was a slice of heaven. If you visit here, ENJOY! (and please LNT!)
Next stop was Boise, another city we had never been to before, where we hoped to see some of Joel's extended family, and say "HI" to the friendly folks at Covington Engineering in their new facility just west of the city.
Before all that, we had another great idea come to mind: maybe we could get re-stocked on one of our most popular slab materials, called Spider Woman.  Red streaks that look like lightning run through contrasting black Basinite. 
Our go-to-guy at the Quartzsite show lives in Boise, so we gave him a call.  He was home and said to come over.  He showed us some of his personal collection, his favorite stuff being fossils, and I got to hold a pterodactyl egg for the first time!!!  (That blew my mind).  There's also a short video in the photo album of an agate with yellow/orange 'extended angel wings' that he carefully extracted himself.  (Very groovy!)
We bought up some rough rock from him, then he offered to let us surface collect at his claim for Linda Marie agate, really talking up the view, especially if we wanted to camp out there for the nite.  He sent us on our way with half a printed map and some Xtra jotted down directions .  We were a little confused from the added scribbling and details, but mostly stoked to accept his invitation!
We set out a couple days later in the early afternoon from Joel's Aunt's place in Eagle.  The air became smokier as we neared closer to the Owhyhee river. We went by the Graveyard Point area then up into some foothills.  Eventually we figured out for sure which road it was that lead to his claim.  The rolling hills are so pretty! And we enjoyed kicking the ground and walking one of the washes for 4 hours, then the sun starting really going down.  There were all sorts of lovely small pieces to take home and try polishing.  I also came across MUSHROOMS!!  This surprised me quite a bit, given the very dry, dusty, arid environment.  (It must have rained here not long ago. ? !)  We pitched our tent looking down into the uninhabited openness below, as well as one could see, and the sun hung in the sky like a pink orb a couple hours even before dusk.  Only 2 other trucks went by all day.  When dark set in, there were few twinkling lights of civilization.  It was very peaceful and unique.  Such a beautiful gift to experience it.  Thanks so much, Phil!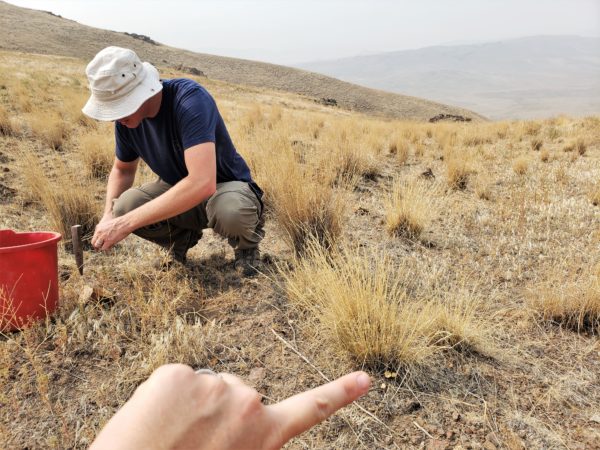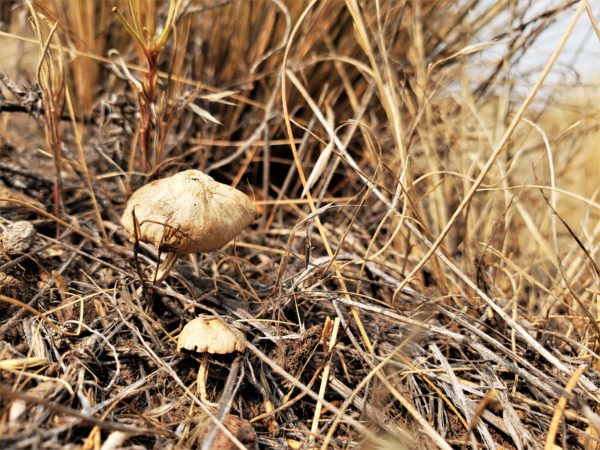 Linda Marie is a plume agate with areas of green.
After breakfast the next morning, we drove back down toward sea-level to try our hand wandering the Regency Rose area that Phil also told us about.  Again we found some small, pretty pieces, also with some plumage and dendrites.  After a couple hours in the hot sun, Joel took us to Snivley hot spring- another gem in the wild- right IN the Owyhee river.  WoW.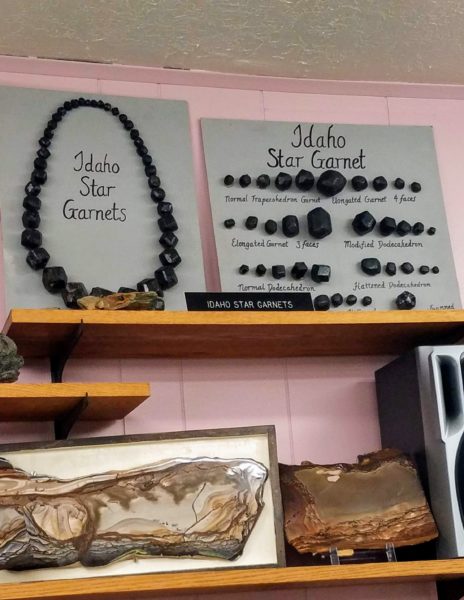 The following day we were back at Joel's Aunt's in Eagle, and she was kind enough to drive us into Boise so we could all scope out Stuart's Gem Shop together, per Phil's recommendation.  This is the first time I recall being exposed to Idaho Star garnet.  Years ago, the founder of the shop, Stuart Dudley, was the first person to figure out how to cut the garnet to reveal it's most gem-y potential.  What a neat place!  With loads of jewelry, funny dogs to pet, and a back yard full of nice rough material.  It was great chatting with Brent and learning more about the energy behind their family business.
A couple days later on a Thursday, we took off for Utah, as we were expected to be back in our office after the weekend.  After leaving Eagle, we detoured slightly to swing in and say HELLO to the Covington (Engineering) crew.  We are so happy for them!  Did you know?  They recently moved their whole shop from CA to ID, where they have MUCH more room, and seem thrilled about their new potential.  (Thanks again for the tour!)
We drove about 400 miles total that day and spent the night on BLM outside of Provo, Utah. 
Today's agenda: Septarian nodules.  According to the book, we should stop into Joe's Rock Shop in Orderville.  Here we bought a nice hunk of Travertine, and they gave us a map, with more verbal directions out to their claim, and we were again welcome to camp overnight.  She said the giant pit where they dug is totally picked over, but we were welcome to look in other places.  So we did, the following morning, since we found nothing here today except for another dynamite camping spot.  The area beyond the pit is up on a raised flat of land, so it has views and I saw so many falling stars that nite (meteor shower?) while laying in my sleeping bag, that I will never forget this spot.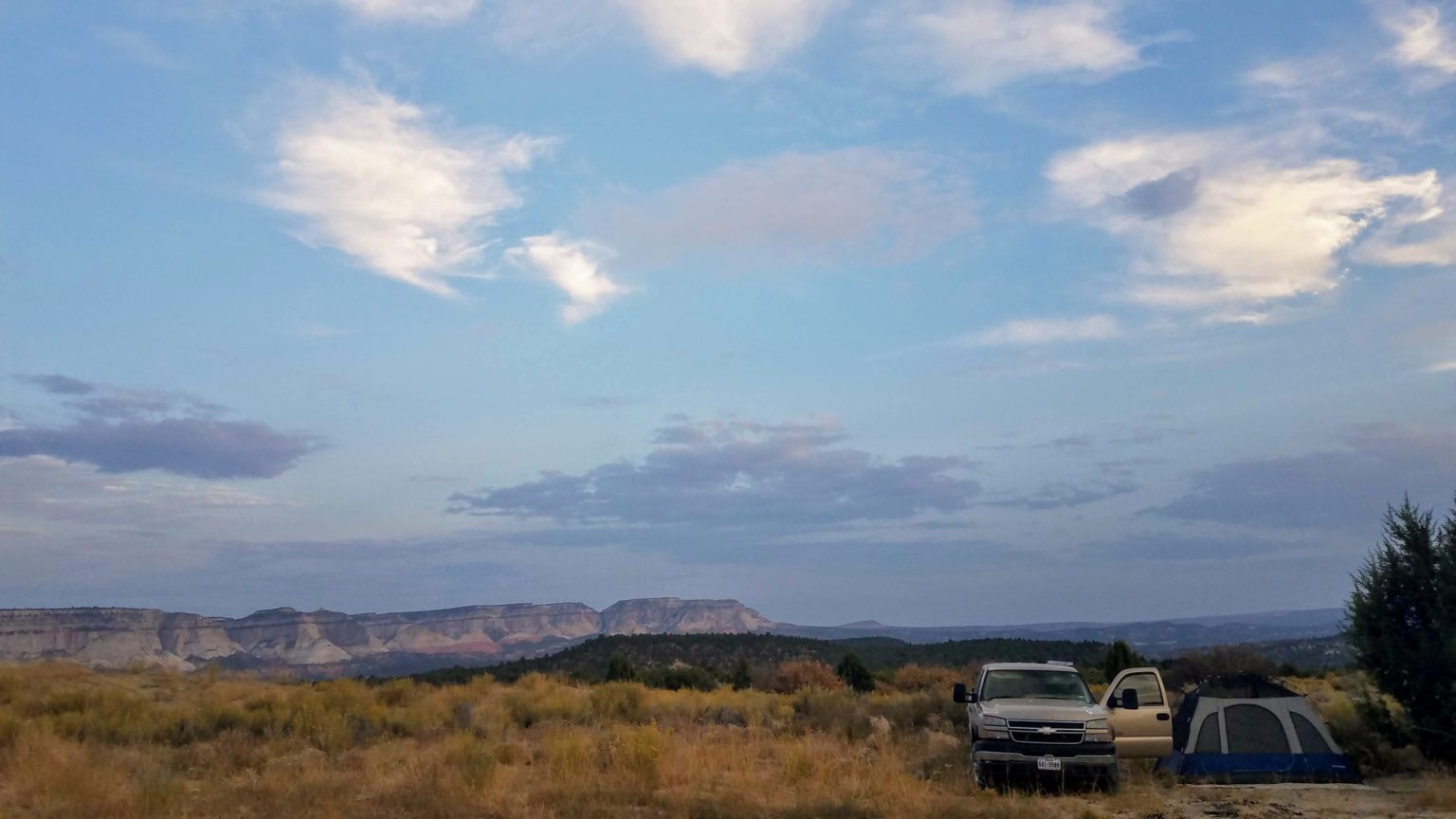 In the morning we walked down to a very steep and gnarly road that hooks to the right.  We found definite nodule pieces protruding from the ground in various areas, although there was one hunk in particular that I found up in the shade of the sloping wall.   It looked like it would be worth seeing more inside!  We dug down to see more of.   out to be very large!  It was so heavy, we saw no way of getting it back up the hill!  So we left it, chipped-off corner laying nearby.  Somebody else is going to see it and be very happy!  We did leave here with several pieces to cut into later.  (Thank you so much, Joe's rock shop!)
NEXT and LAST on this trip's agenda were agates in Brian Head state park.  The book says to look in the washes not far after turning down the road that leads up to the top lookout, which was one of the most incredible views, by the way!  It's well-worth going up there.  We readily found stuff for tumbling, and it didn't take long to collect the largest agates I have yet hounded, myself.  (Although, Joel and I are still kind of new at this.)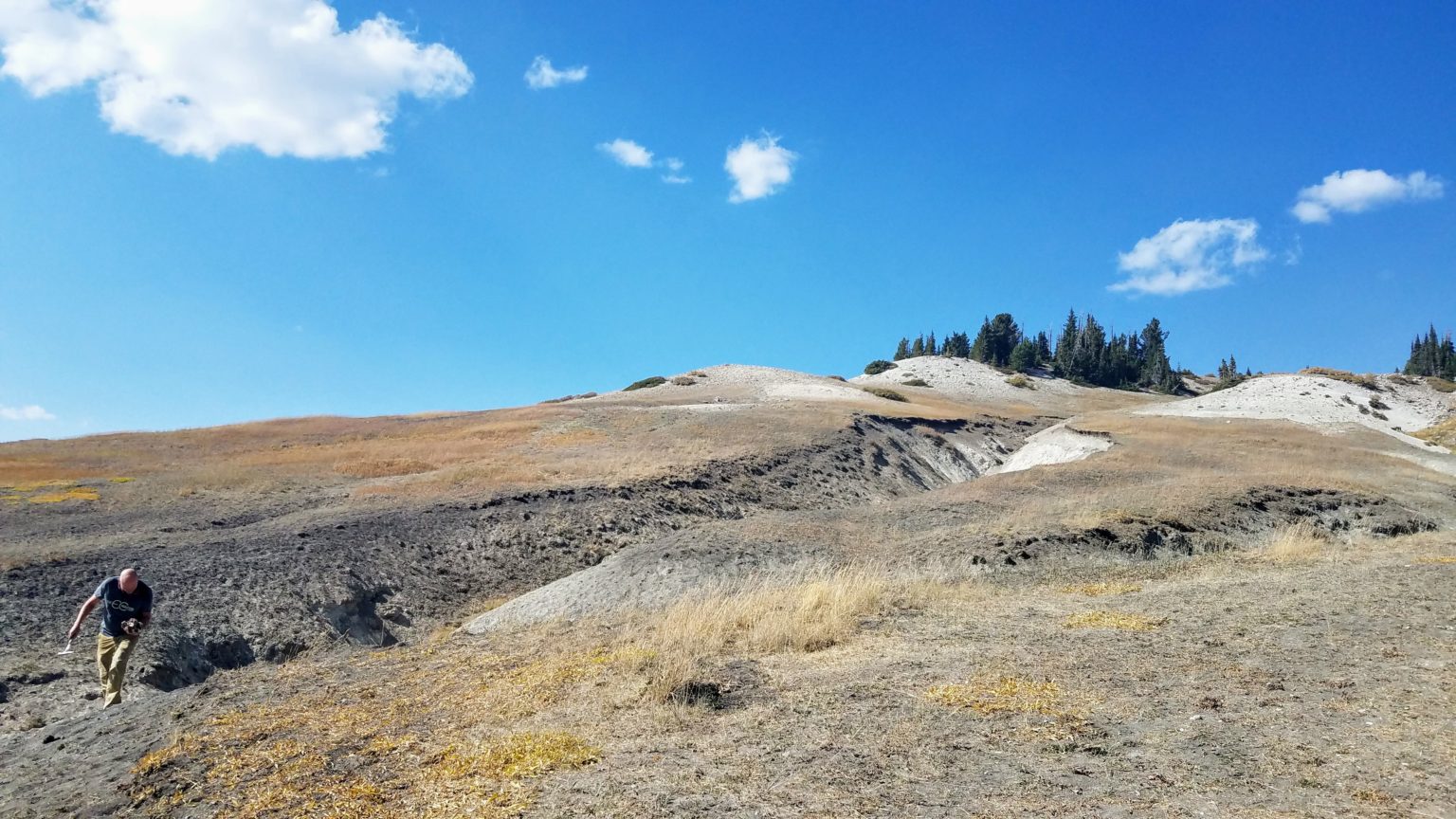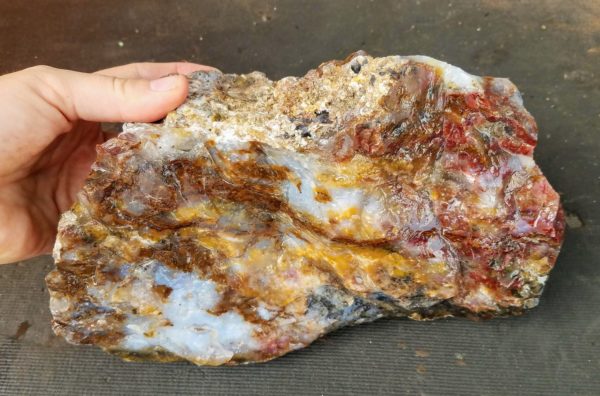 I had rain boots on, so I was sloshing right up through the middle of the creek bed.  What fun that was!  (I find rain boots to be one of THE best items I own.  They're so handy!) We only hung out here for a half hour and found more than we could take home, and the biggest I've ever collected! (I'm used to finding ones more for tumbling, so this was very exciting to me.)   A very easy, rewarding place to look!  Between the large pieces we found, and all the fun of walking in the water, this was my favorite rock stop from our whole trip.

After here, we drove the rest of the road to the top of the hill, with AMAZING panoramic views (see album).  It was ridiculously windy!  And well-worth getting out to look around.  
As of this posting, out of all that we brought back with us, we've only had time to polish a few small pieces of Linda Marie agate.
We've been back in the office since September 21st and continue to move our inventory over from the old website to the new one.  We're thrilled to be nearly complete with all of our SLAB categories. (WhaHoo!)  Mike, our cuttin' guy, has been very busy too, making cabs for clients.  Some of our rocks from the trip are in his queue to cut.  We'll share any future slabbed or polished finds another time to come. 

  Thanks for reading and coming along on our journey!  And another BIG thank you to our rockstar partners, Courtenay and Mike, for running the office while we were gone (along with vending a few weekend tent shows!).  It's just fantastic that we're only 2 of 5 people running this business, and we are able to take off and travel for so long every year, spending time with our families and in the great outdoors.  I think being out in nature is one of the richest gifts we can ever allow ourselves. 
Everybody needs beauty as well as bread, places to play in and pray in, where nature may heal and give strength to body and soul alike.  -John Muir

Take care, everybody!  Until next time…
Tally Ho!
~Angela