Cobra Jasper (Script Stone) Rough from India - $8.00/lb
Cobra Jasper comes from India. It is also sometimes called Indian Script Stone, Coquina Jasper, and several other names. This stone is known for having reddish-brown, burgundy, and burnt orange colors. It contains coral and shells embedded in sedimentary rock.
Even though it's commonly referred to as a Jasper, it is actually a type of coquina.
This means it is a bit softer than your average jasper, putting this material somewhere between Mohs 3- 5.5. It will polish nicely with cerium.
Ruler is in INCHES.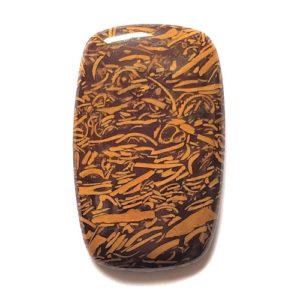 Example of a Cobra Jasper Cabochon
Showing all 6 results