Natural Campitos Turquoise Rough - Light Blue with Pyrite - $255/lb (~$0.56/gram)
This natural turquoise rough comes to us from Campitos, Sonora, Mexico. These specimens are a light blue color and make beautiful cabochons. The items in this category are photographed wet to give you a better feel for what this material will look like when it is polished.
Turquoise is a copper-based mineral (hydrated copper aluminum phosphate). Turquoise polishes well with diamond, tin oxide or green rouge.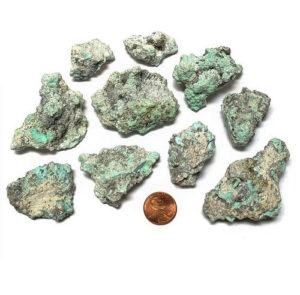 Sample of Natural Campitos Turquoise @ $255/pound. (Photographed Dry)
Showing all 11 results