Natural Sonoran Blue Turquoise Rough - Fine Medium Blue - $500/lb (~$1.10/gram)
This natural Sonoran Blue turquoise is from an area close to Cananea in Sonora, Mexico. It has a fine medium blue color with pyrite. It tends to have a crust of pyrite and may be speckled with small pyrite cyrstals inside. This is some of the finest natural turquoise we have seen from Mexico.
Turquoise is a copper-based mineral (hydrated copper aluminum phosphate). Turquoise polishes well with diamond, tin oxide or green rouge.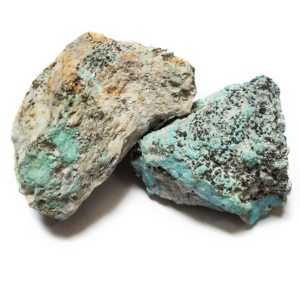 Sample of Natural Sonoran Blue Turquoise.
Showing all 2 results