Clam Chowder Stone Slabs from Mexico
Clam Chowder Stone is a hard, dense limestone loaded with clam shells. It works easily and takes a fine polish with tin oxide or diamond. The base is yellowish color when natural, but when heated, it turns into a reddish color.
Ruler is in Inches.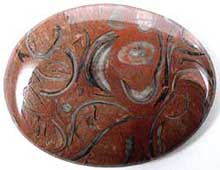 Example of a Heat Treated Red Clam Chowder Stone Cabochon
No products were found matching your selection.