Polychrome Jasper Slabs from Madagascar
Polychrome Jasper slabs are also called Royal Savannah or Desert Jasper.  It was first found on the northwest coast of Madagascar in 2008 during a hunt for more Ocean jasper.  The word polychrome literally means "painted, printed, or decorated in several colors".
Jasper is an opaque, microcrystalline form of quartz.  It is hard and takes an excellent polish with cerium or tin oxide.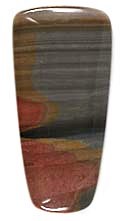 Example of a Polychrome Jasper Cabochon
Showing the single result