Bloodstone Slabs from India
Bloodstone is a member of the chalcedony family, bloodstone is a cryptocrystalline quartz. It inherits from that a conchoidal fracture and a hardness of approximately 7 on the Mohs hardness scale. However, the hardness of bloodstone is usually slightly lower, at about 6.5.
THE RULER IS IN INCHES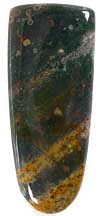 Example of Bloodstone Cabochon
No products were found matching your selection.