Cobra Jasper Slabs from India
Cobra Jasper slabs come from India.  This stone has had a myriad of other names, such as:  Script Stone, Sea Fossil Jasper, Coquina Jasper, Cobra Jasper and Elephant Skin Jasper.
Even though it's commonly referred to as a Jasper, it is technically a type of coquina.
This means it's a bit softer than your average Jaspers, putting this material somewhere between 3- 5.5 on the MOHS scale.  It will polish nicely with cerium.
Ruler is in INCHES.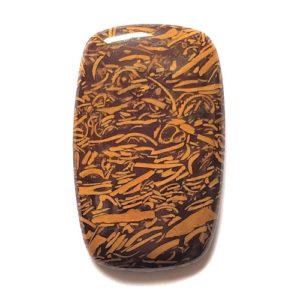 Example of Cobra Jasper Cabochon
Showing all 4 results